Our Faith
Our Faith
Holy Trinity Academy depends on our local St. Anthony Catholic Community and Parish Priest – Father Jaya Rajan,  to assist us in the formation of our student's faith journey. Co-ordinated events and celebrations between our parish and our school allow our students to experience a living faith.
Celebrations
Holy Trinity Academy creates the school year with our Catholic tradition in mind. In conjunction with our church calendar, our school calendar provides the opportunity for our staff, students, parents and parish members to celebrate the important events throughout the year.
St. Anthony's Catholic Church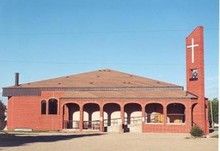 Our Chapel
The chapel at Holy Trinity Academy is used for our students and staff together with our parish priests to celebrate the Sacrament of Eucharist throughout the school year.
Retreats
At Holy Trinity Academy we provide spiritual retreats for all of our students Grades 9 to 12 throughout the year.  Our Grade 12 students attend a graduation retreat each year in April/beginning of May at the YWCA's YoWoChas Centre.