Holodomor Presentation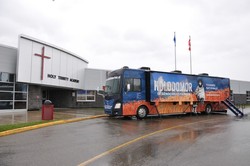 We had an amazing learning opportunity on Wednesday; The Holodomor bus was here to deliver an interactive and powerful presentation to our students about the Ukranian Genocide.  It was a learning opportunity not to be forgotten.  More photos are available on our facebook page.
THANK YOU GFI Solutions Ltd.!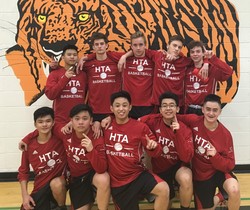 A huge THANK YOU to GFI Solutions Ltd. for the donation to purchase all our Girls, Sr. Boys and JV Boys Basketball Clothing! They all looked great thanks to your generosity.
THANK YOU PEMBINA PIPELINES!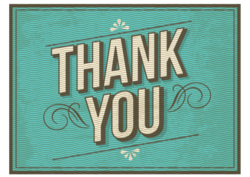 We would like to acknowledge Pembina Pipelines for sponsoring our guest speaker, Amanda Oling last week.  Your contribution brought a valuable presenter to our students that otherwise would not have been possible.
393 POUNDS OF DONATIONS!!!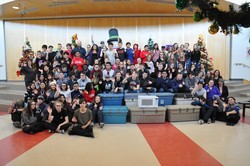 On behalf of the Social Justice Team I would like to thank you all so very, very much for your generosity in donating to the Trinity for Teens Christmas Drive that will be given to the teen mental health ward at Calgary Foothills hospital The response was overwhelming and very heartwarming! This is truly the gift that keeps on giving as these supplies will last them all year long. It continues to benefit the teens as they will have clothes, food and toiletries to make them more comfortable. Many stories have been shared of the impact this has on their lives and the staff. This would not be possible without your generous support. Many, many thanks!!

Sincerely,
Lorri Winship
Sherri-Lynn Peacock
Social Justice Team
School News
The Journey of another School Year Begins in STAR Catholic
Posted on

September 17th, 2018
In St. Thomas Aquinas Roman Catholic Schools we speak of a journey in our Vision Statement, a foundational focus for the Division: Souls seeking Christ on a journey of faith, learning and love.
The Camino de Santiago, or The Way of St. James, is a vast network of ancient trails, routes and pathway that traverse across Europe; they all culminate in the tomb of St. James, located in Santiago de Compostela in north-west Spain.
Despite the fact that thousands of people take to the Camino each year, it is by no means an easy journey; it covers several hundred kilometres. But that doesn't stop eager pilgrims from setting out on the journey, not knowing what is to come.
It's a great illustration for a new school year at STAR Catholic, after a well-rested and invigorating summer break. Like the travelers along the Camino, we know where we are starting from. We are humbly honoured that families continue to choose STAR Catholic schools, as our enrollment continues to grow, and those same families consistently rate STAR Catholic among the highest in providing Safe and Caring Schools. We know that we continue to hold high the importance of events that bring together our Division, such as STAR LIGHT Day for students and the Division-wide professional development Learning Day for staff. And with our Board Priorities, we have our Divisional path set forth.
Like any good journey, you don't leave home without a map, a GPS, a plan. As Catholic schools, Christ is at our centre, and as such in the past year, we began a Three-Year Faith Plan, entitled: We are People of The Way. Year 1 focused on Learn the Way, which allowed us to explore ways to reveal Christ in our lives. This is Year 2: Love the Way, which focuses on deepening that relationship. This in turn allows us to witness our faith, to model our faith and to permeate our faith into every aspect of our life — our work, our classrooms, and our schools. Love the Way allows us to put others first and love our neighbour, be that in our school community at large, or in the person in the desk next to you in the classroom. That is a good first step in a journey as a Catholic school community!
As we continue along this school year, we as a Board pray for our students, staff and parents. We pray that our students continue to experience the connection to their teachers, to their schools and to their peers that makes them successful. We pray our staff have a tremendous and rewarding year, filled with the personal and professional development that makes them the committed and passionate people we are blessed to have serve in the Division. And we pray our parents find engagement in their schools and the Division, as we are true partners in the education and well-being of students. Your voice is crucial and makes our schools and Division a better environment for our whole Catholic school community.
During this school year, whether your journey includes a Kindergarten class, or a graduation stage, we encourage you to Love the Way!
God Bless!
Sandra Bannard sandra.bannard@starcatholic.ab.ca is the Drayton Valley Trustee on the STAR Catholic Schools Division Board. STAR Catholic Schools has more than 4,000 students in 12 schools located in Beaumont, Drayton Valley, Leduc, Lacombe, Ponoka and Wetaskiwin.